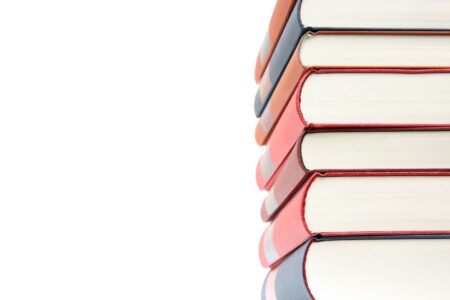 Since 2015, I have published 10 customer experience trends for each year.I looked through the previous lists and noticed that some of the trends have materialized and some have, of course, been forgotten. As my readers of trends have known since previous years, the trends and ideas I write are not necessarily revolutionary, but they can also be perspectives that I have come across in my own work and daily life. At the center, of course, is the rapidly evolving world of customer experience. Hopefully these 10 trends and phenomena will help you find new ways to improve your customer experience!
 1. The customer is the purpose
At the moment, there seems to be a "purpose" at the heart of the debate. So the question is why companies and organizations exist. The conversation is very valuable and at best it helps to find a common core from the perspective of the entire staff. Instead of just discussing money, we are discussing the purpose of existence. The Companies Act states – at least in Finland – that the purpose of the company is to generate a profit for the shareholders, unless otherwise provided in the Articles of Association. The question is not whether profit could be sought, but whether profit is made by doing the right things.
For Apple, the purpose statement means "Making the dent int he universe" and "Thinking differently". Tesla says "We exist to Accelerate the world's transition to sustainable energy". In both cases, this sounds good – and in both cases, the focus is heavily on technological innovation. However, the foundation of all businesses is not technology-driven and therefore the purpose of existence should be reassessed, especially in the competitive consumer and B2B industries. Unfortunately, the purpose of too few companies is the well-being of their customers! That's why I hope and believe that more and more companies are paying attention in their own purpose process to serving the customer in a unique way. For example, AirBnB sums up well: "We help people to belong anywhere."
     2. NPS – stronger than ever
I've been working on KPIs and measuring the customer experience since 2010 and every year someone has predicted that NPS has come to an end. It has been the subject of tremendous criticism and a fragmentation of how the scale is wrong, "customers are wrong" or the way the NPS figure is calculated is wrong. Despite all this, NPS is doing very well. It is a philosophy of customer-centric operations and no longer just a metric.
Fred Reichheld, the father of the Net Promoter Score, has written a new book, "Winning on Purpose," in which he opens up a new dimension to the NPS model. NPS means now Net Purpose Score and has built a new "Earned growth rate" model that reveals the success of companies investing in customers. In his book, Fred Reichheld shows how the example companies of Jim Collins '" Good to Great "book, which is must read -book among business people, are losing out to customer-centric companies investing in the NPS model! So in 2022, NPS gets new rounds and shows that it's not "just" a figure but a path to financial success – but only when used properly. Now is the time to update your understanding of NPS and grasp its true potential.
     3. Innovate new – don't just fix
Customer experience development often starts with fixing problems. That's all natural, because in most cases, customer feedback triggers the need to improve the customer experience. But the challenge is that too often one gets stuck just to fix problems. Customers will no longer remember where they gave feedback today. Customers are not thankful for eliminating problems that shouldn't even have existed! Fixing problems alone is not enough to build a business that grows through referral.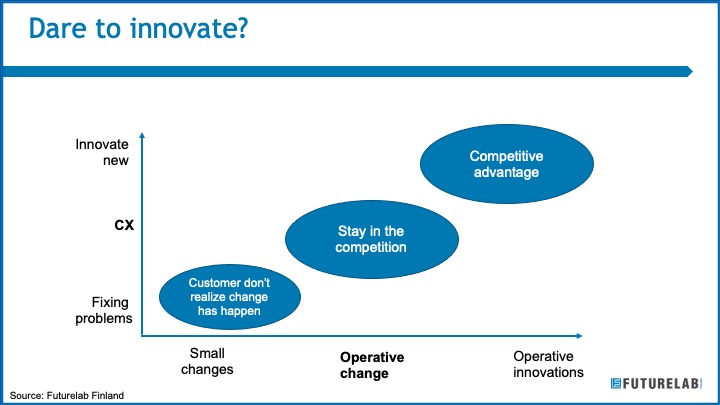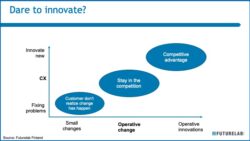 In 2022, it would be time to invest in innovation in the customer experience. It does not automatically mean digital solutions, but ways to boldly innovate ways to meet customers. Innovating new types of experiences builds competitive advantage. So what does innovation in the customer experience require of a company? Here are a few perspectives:
Identify potential latent customer needs
Allocate part of the customer experience development budget to innovation
Involve staff over silos
Let's try, learn and try again
Courage to fail too.
Innovation energizes employees and builds distinctive encounters with customers – just what is needed!
     4. Closing the loop process
Each of us knows how we feel when companies don't respond in any way to the feedback we give. The feedback disappears into some black hole and nothing changes. It is this problem that requires a working closing the loop process. It means a process that ensures that customer feedback is returned to the customer and, on the other hand, that systematic process development is made based on the feedback.
I have tried the process of several companies, for example, by answering the question NPS with a grade of 1 or 10. In my experience, less than 10% of companies return to the matter! Taking over the closing the loop process is the foundation for developing a customer experience, but unfortunately it seems overwhelmingly difficult or uninteresting. In 2022, it is time to change that. Implementing the closing the loop process is the best way to improve your customer experience!
       5. Responsibility
I have been asked several times recently what is the relationship between customer experience and responsibility. Personally, I am not an expert in responsibility, so I cannot and do not want to go into a very in-depth assessment of the content of this current topic. Corporate responsibility means the impact of an organization on society, the environment and the economy. From the point of view of companies and organizations, these are acts by which they show that they are acting in accordance with the principles of responsibility.
Responsibility is the deeds that appear in customer touchpoints. Communication alone is not enough, actions are needed that change customers' perceptions of corporate responsibility, but also build a new, distinctive customer experience (images and emotions are big part of the customer experience). Legislation sets a minimum level, but every business and community needs to understand what its customers expect and demand from an accountability perspective. In 2022, the connection between responsibility and customer experience should be ensured!
     6. Change management concretizes the vision
The strategy of more and more companies includes customer experience. The crystallization of our own vision of a differentiating customer experience answers the question "what kind of experiences do we want to offer our customers". But vision alone is not enough – it alone will not ensure that the customer experience will truly change in the desired direction over the next 2-3 years.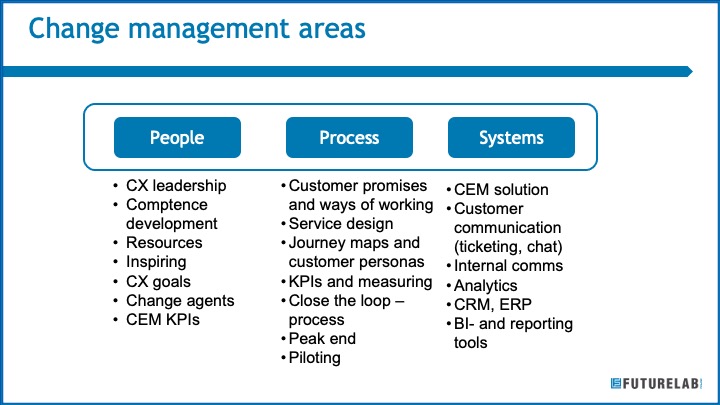 Therefore, companies and communities should harness the change management toolkit to support the development of the customer experience. It can be said that there is no separate change management but all management is change management. The problem, however, is that leadership is easily seen as optimization and support for existing strengths. This premise supports permanence, not change. Many companies have built a separate process and even a team to support the change. Charlene Li wrote on LinkedIn about a "Transformation Management Office" solution that specifically promotes change and doesn't focus on projects. The customer experience only creates a competitive advantage if it is seen as a journey and not as individual projects. 2022 is a good time to embark on a journey of change.
     7. Proactivity
Everyone knows how great it feels when a company be in touch on their own initiative in advance when the situation changes. For example, I was called from a restaurant regarding a New Year's table reservation due to changed covid-19 restrictions. This small everyday act causes unnecessary inconvenience to the restaurant staff, but in addition to annoyance, the customer's relationship with the company can also be strengthened. Alongside this small example from my life, the world has bigger problems – a shortage of chips or the availability of raw materials will cause nasty surprises for those waiting for a PlayStation, a car or a home to be completed.
Proactivity is needed right now. Customers should be told openly in advance about challenges related to availability or schedules. Customers understand and forgive. Customers will not tolerate knowing secrecy or silence. And if necessary, make sure that at least those key customers know about challenges and changes. According to a Gartner survey, only 13% of customers say they have received any proactive service. Proactive action is critical, especially for B2B companies. The proactivity of 2022 is a great opportunity to stand out in both B2C and B2B business!
     8. Dare to stand out
It is interesting to note how customer experience thinking moves from one industry to another. It seems that within any industry, it is being decided to simultaneously invest in this new potential way to build a competitive advantage. However, the end result is often that the same thing is done as the competitor. Either the solutions are copied or there is already similar thinking within the industry. Or don't anyone dare to stand out?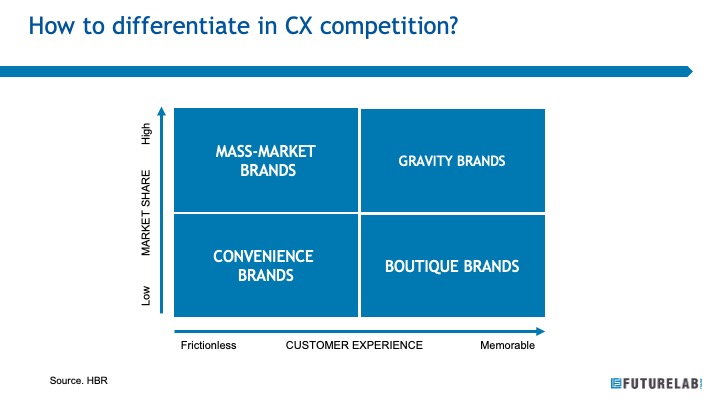 The market leader's resources for developing the customer experience naturally differ from those of the challenger. That is why it would be worthwhile to do a proper competitor analysis from the perspective of the customer experience and identify your own possible means of differentiation. At its simplest, it is possible to stand out by investing more in the customer experience! Apple, Amazon and Ikea are innovators (in the four fields in the picture) – they are market leaders and the best in terms of customer experience metrics. Small specialty stores can stand out with their personal approach. Typically large retail chains emphasize easiness. How are you going to stand out in 2022?
     9. Compassion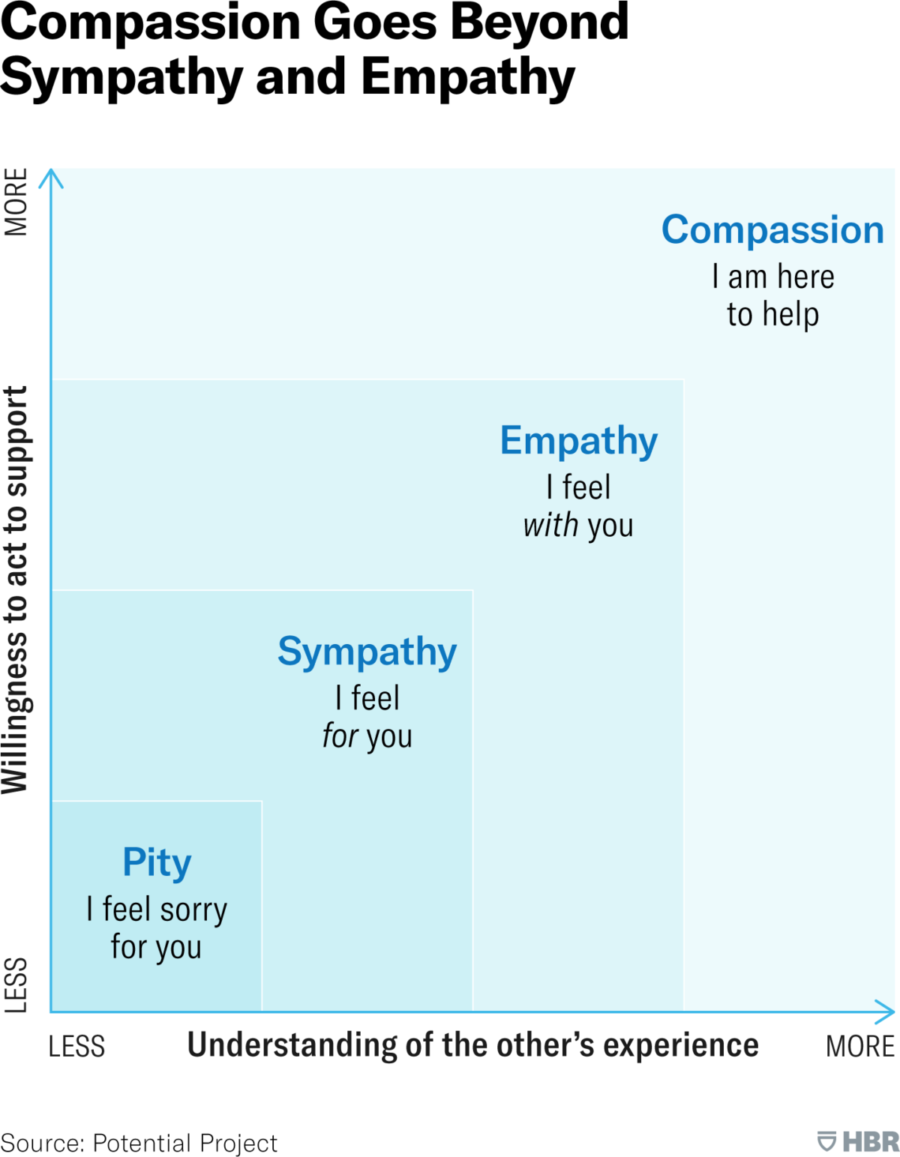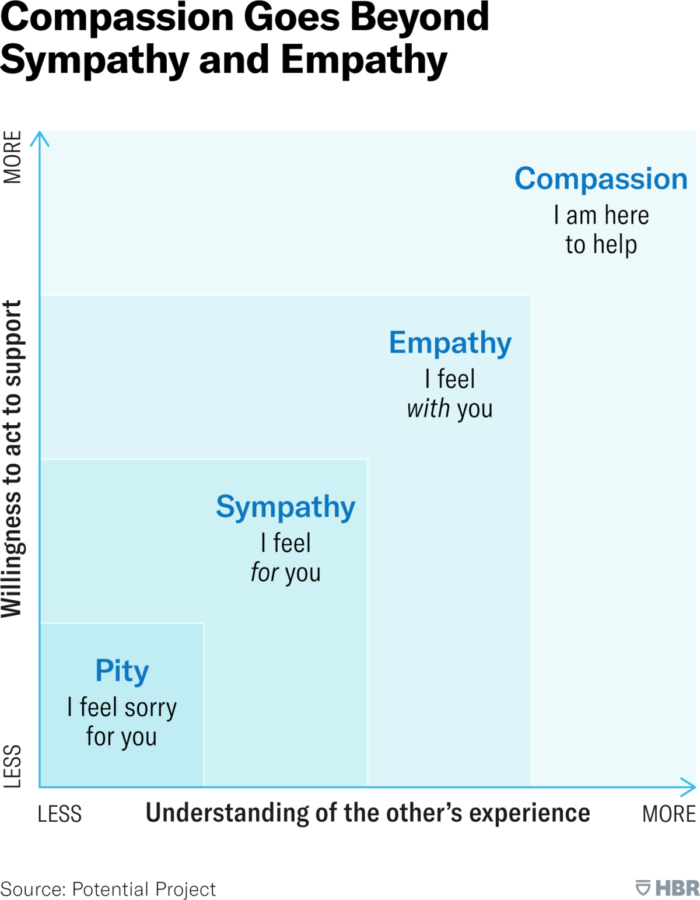 In 2016, in my customer cxperience trends blog, I raised empathy as one of the trends. It has been interesting to see how, over the past few years, emotions and their significance have become more strongly involved in the discussion among customer experience professionals. According to some estimates, up to 2/3 of the customer experience is emotional, so it is worth paying attention to the topic.
Now is the time to raise a new issue – compassion. The topic was raised by HBR in its own article. I am not a professional of the human mind, so I am referring here not only to the HBR article but also to the thoughts of other sources. Empathy is the ability to notice or feel another's suffering or resentment. Empathy becomes compassion when action to alleviate another's suffering begins. Compassion is an activity that is motivated by empathy.
Right now, in the midst of covid-19, empathy has been an important resource in customer encounters. What is needed now is a new kind of action and not just speech. I refer to both the first and second trends, where genuine customer care and service emerges as a way to build sustainable success in business. Compassion is the path to success – not just some fuss. The customer experience is above all an act of creating loyal customers.
     10. The customer experience is in the details
Jon Picoult, an influencer of the customer experience and founder of Watermark Consulting, predicts in his 2022 assessment that "nothing will get better" from a customer perspective. In other words, companies and organizations do not really succeed in making their operations more customer-centric.
To stop this from happening in your case, along with strategic development, it is worth taking small concrete steps to delight customers. I want to emphasize that the customer experience is in the details. The customer experience is only improved by changing the customer's perception of the company. It does not require an ERP or CRM system. It requires "getting your hands dirty" in customer work. Details can be, for example:
Handwritten thank you message to the customer
Remembering the customer's holiday
Refunding the customer's effort with a little remembrance
Calling instead of sending an email
Distinctive language (humor, dialect)
It is easy to come up with more of these, because in every company similar ones have already been done before or everyone has encountered an exceptional situation in their own daily life. I already hear a sigh because "this all costs a lot of money." It costs even more if nothing is done – customers leave unnoticed and getting new customers costs even more. Forget the strategy for one workshop and come up with five ways to surprise your customers!

I hope these 10 trends bring idea and joy to 2022. Wonder which of these is your favorite!

Tags: closing the loop, compassion, customer experience, innovation, net promoter score, trends